The holiday is booked… but what are you going to cook?
Bloom Stays invited food writer Charlotte from The Needy Greedy to Waters Edge, Greatstone on Sea to cook up a few of her favourite recipes that are perfect to recreate in your self catering holiday home this summer. They are all quick and easy recipes, simple but still look impressive for your guests and taste delicious too! The kitchen at Waters Edge serves well as a dinner party prep spot, not to mention the incredible dinner table that can seat up to 14 people and looks right over the garden and seaside.
Take a look at what Charlotte (The Needy Greedy) prepared with the full recipes below and enjoy cooking them on your next getaway!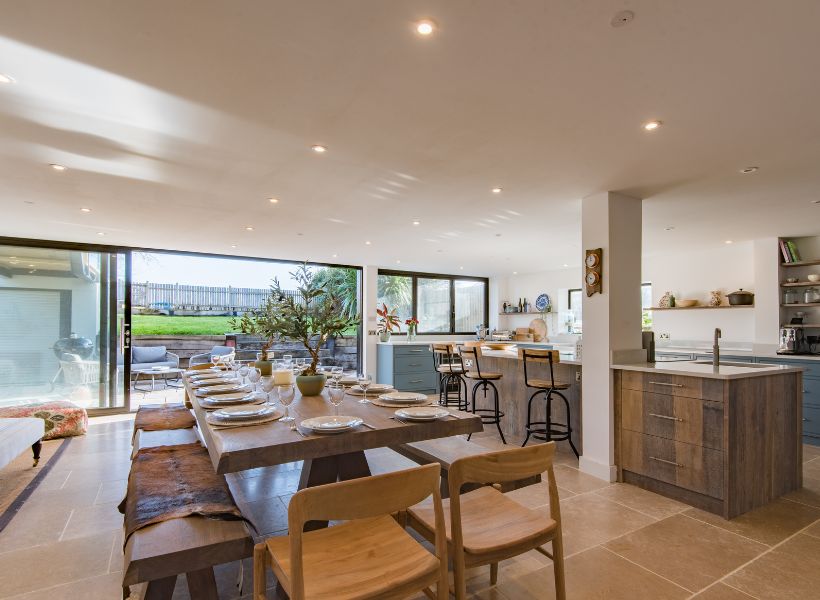 Sun-dried Tomato, Rosemary & Cannellini Bean Dip
Holidays call for chips, dips, wine and chat, so here's a great recipe for you. Goes beautifully with Kent Crisps and a delicious pale pink Rose from Biddenden Vineyard. This gorgeous vegan dip can be whipped up in 5 minutes (and be kept for 3 days) with simple store cupboard ingredients – you'll be wanting this for those al fresco drinks all summer. It's actually pretty healthy too, those gorgeous beans are not only super creamy but full of fibre too.
400g tinned cannellini beans – drained
8 Sun-dried tomatoes (in oil)
1 tsp fresh chopped rosemary
1-2 tbsp balsamic vinegar
1 garlic clove – crushed
2 tbsp olive oil from the sun-dried tomato jar
Salt, pepper and a squeeze of lemon for seasoning
Approx 100ml water.
Add all the ingredients to a food processor, and blitz. Add the water while the blade is running. You need to add enough water for the right consistency, and thickish to ensure maximum dipping enjoyment, no one likes a runny dip.
Taste, and season as required (with more salt, lemon or vinegar). Then chill for at least 30 minutes before serving. Great with crisps, pita bread, or crudities for a super healthy option. Watch the video here.
Spanish Chicken Traybake
Love an easy one-pan dish? Here's a Spanish Chicken Traybake from The Needy Greedy. This one is so simple to throw together, to maximise the fun times spent on holiday. This self-catering dish serves 4 – but can be doubled easily
700g chicken mini fillets
3 peppers – cut into chunks
2 red onion – cut into thin wedges
1 jar of butterbeans
2 cloves of garlic crushed
Olive oil
2 tsp mixed dried herbs
5 Chopped fresh tomatoes
2 tsp Smoked paprika
Chilli flakes (optional)
Generous handful of black olives
Chopped fresh parsley
In a large roasting dish pour a large slug of olive oil. Add the crushed garlic, dried herbs, smoked paprika and chilli flakes if using. Add the chicken, peppers, and red onion. Add the butterbeans with their liquid. Season and mix well then cover with foil or similar. When ready to cook, preheat the oven to 180C, and when hot, put the dish in the oven. After 20 mins, remove the foil and continue to cook in the oven uncovered for approx 20 mins.
Remove from the oven, add the black olives and fresh parsley. We enjoyed it with a dressed green salad and wraps but orzo would be delicious too! Watch the video here.